Taj Mahal Day Trip from Delhi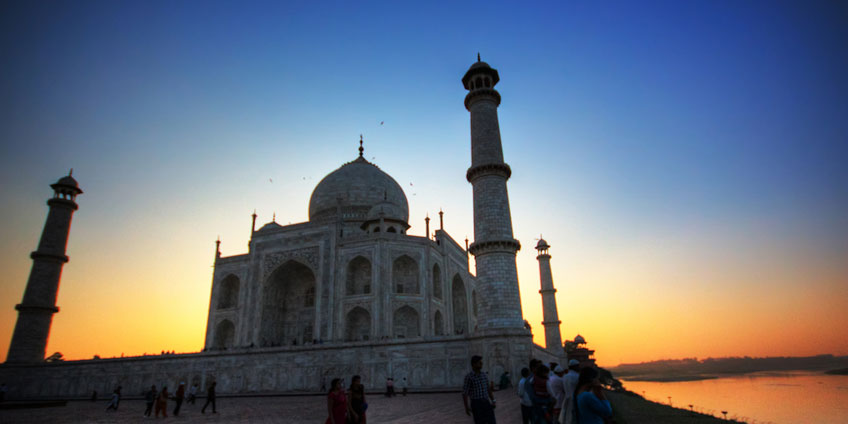 Price: US $ 68 per person.
Places to Visit: Taj Mahal, Agra Fort and Fatehpur Sikri.
Transport: Air-conditioned speed train and luxury private car.
Opportunity to travel on luxurious & speed train runs from New Delhi to Agra. There is no better way of visiting Agra in a leisurely day out from New Delhi.
Schedule of the day
Leave your hotel early morning & make it to the station accompanying our representative. Train will depart New Delhi station by 0600 hours. You will be welcome aboard and comfortably seated with bottle of mineral water. You will be served superb breakfast at your place in airlines fashion. Train scheduled to arrive Agra at 0755 hours.
After "Welcome" briefing at Agra station, you then take a ride in air-conditioned car & will proceed guided tour of Agra.
Morning hours city sightseeing tour includes Taj Mahal and Agra Fort
After the morning sightseeing, lunch will be served at one of the best hotel in Agra, hotel The Gateway.
In the afternoon you will be taken to Fatehpur Sikri, sight is twenty miles from Agra & drive of one hour.
Prior to your train departure from Agra, opportunity to enjoy a last - minute shopping of gifts and reminder of your visit to Agra. Arrive at New Delhi station, transfer to your hotel in Delhi.
P.S: If needed we could arrange drive back to Delhi.
"Tour Ends Here"
Train options: Travel by Gatimaan Express.
What should you wear:
Wear casual clothing, appropriate for the weather conditions.

You get:
Air-conditioned standard class train tickets.
Breakfast and dinner served at seat.
Lunch (Buffet) at five star hotel in Agra.
Arrival/Departure & sightseeing with air-conditioned transport.
English guide.
All tax.

You Don't get:
Entry fee to the all sightseeing places.
(Taj Mahal: USD 15, Agra Fort: USD 05, Fatehpur Sikri: USD 05)
Tips & personal expenses other than specified above.

Conditions:
This tour is not running on Friday's.
Train time subject to change with prior notice.
Tour is operated in English unless otherwise stated.
Booking cancelled within 03 days of travel date incur 100% cancellation as penalty.

.
How to book the tour?
Email us at info@indiatraveltours.com specify name and age of travelers, travel date and pick-up place.or further query fill up the above form
Information about Agra:
Temperature (July 09 2016)- 33°C / 26°C
Distances: Delhi- 200 kms, Jaipur - 265 kms, Khajuraho- 400 kms, Varanasi- 607 kms, Ranthambore - 300 kms
Entry Fee (In INR): Taj Mahal: 1000, Agra Fort: 500, Fatehpur Sikri: 500
Some other trains for Agra: Taj Express - 0715 hrs/0950 hrs., Punjab Mail - 0530 hrs/0820 hrs
Taj Mahal at moon light: tourists are allowed to view Taj Mahal in the night only on full moon days
Full Moon dates: Year 2016- July 19, August 17, September 16, October 15 November 14 December 13
Excursions from Agra: Fatehpur Sikri - 35 kms, Bhartpur Bird Sanctuary- 60 kms, Mathura-60 kms & Gwalior-118 kms
Visiting Hours: Taj Mahal and all monuments from Sunrise to Sunset.
Hotels in Agra:
Five star: Taj View, Mughal Sheraton, Jaypee Palace, The Trident.
Four star: Howard Park Plaza, Hotel Mansingh.
Three star: Hotel Amar, Hotel Mayur, Raj Mahal
Things to keep in mind while in Agra:
While in Agra, it is better to be cautious, then to repent at leisure! There are few warnings one is advised to always keep in mind when visiting Agra for day trip or otherwise:
* Pickpockets are a great menace, so be always watchful about your wallet, and other valuables.
* The touts are often insistent and nasty. It is therefore advised that you are always polite but firm in your refusal.
* The street vendors are frequently relentless and even a casual inquiry about their ware can result in a vicious chase.
* Be cautious about fake articles, particularly the marble mementos, which could be cheap articles made up of chalk.
* Be extremely cautious about the road side food, as it might easily land you up with a bout of diarrhea.
* It is always advisable to source your water bottles only from your hotel and carry them with you.
* When hiring a rickshaw, or planning a camel ride, try to drive a hard bargain for the best possible price
Other Related Tours: